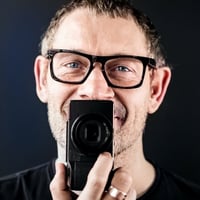 Jean-Christophe Yacono (yako) is a French-Canadian visual artist and multimedia director. As a photographer and creator of interactive and digital works for small and very large screens and public spaces, his practice reveals images in motion, alive, contrasted and grainy, photographic or animated. He is interested in gesture as a generator of reaction and interaction, glitches or analog or digital artifacts, blurs and trans-disciplinary and transmedia co-creation. His works and creations have been presented at the Centre Pompidou (CNAC), the Biennale d'Art Numérique de Montréal (BIAN) and the Elektra festival, the Festival International des Films sur l'Art (FIFA), the Festival du Nouveau Cinéma (FNC), the RIDM, the RVCQ, Cirque du Soleil, the ArTV studio and the Wilder facade at Place des Arts, at the 0x Society, Centrale Powerhouse in Montreal and FARM project galleries in Cape Cod, and in various local and international newspapers and magazines.
toy cameras to large format. Ricoh GRIII. Canon M6mkII. Canon 7D. Yashica D. Canon A1. Polaroid...
---
No collection found
Report
Describe why you think this item should be removed from marketplace
Great!
First of all you need to insert your wallet address
Approval may take 1-7 days for our platforms. Thank you for your patience.
How to create a wallet in easiest way
How to connect wallet and sign up to seed.photo