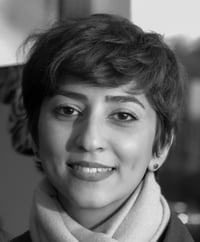 Qoutes :
What I love about Street Photography is you can tell stories in less than a second.
Niloofar Asadi, born in Tehran in 1983, is an Iranian independent filmmaker and visual artist based in San Francisco. Exploring character-driven stories by evoking a human view of the characters' emotions and motives with the power of visual storytelling lies at the core of her artistic mission. Her work signifies existential themes like remembrance, presence, time, trauma, and death, focusing on the individuals' power and vulnerabilities yet de-emphasizing the social identities they perform. By portraying the characters in a state of crisis, she positions the viewer in an uncomfortable circumstance of witnessing suffering and pain, and exposes them to the existential and psychological states of the characters, and seeks to provoke complex feelings and responses, whether self-reflective or sympathetic, in the viewer. To craft these settings, she adopts a subjective approach and draws particularly upon her own experiences to manifest how a character's response in the face of a disaster, whether vulnerability or resilience, reshapes the individual's identity. Niloofar's vision in pursuit of a universal voice, yet with a strong local accent, is largely shaped by her experiences of displacement and her endeavor to redefine her artistic identity in the cultural landscape of the host society. Having experienced suppression and censorship as a female artist in a patriarchal society back in Iran, she has always maintained a critical perspective on dominant societal and cultural trends. In 2012, she founded AG91 as a creative platform for experimental film-making, theatrical performances, and visual arts. Working with different media and experimenting with various visual forms has given Niloofar a distinctive visual eloquence, which continues to enrich the visual language of her films. Since her migration to the US in 2015, she has kept expanding her universal visual storytelling language and rejects the standard casting of a middle eastern artist with an imposed focus defined by the dominant trends. ​ Niloofar has an MFA degree in Motion Pictures and Television, with an emphasis in directing, from the Academy of Art University in San Francisco. She started her professional career in 2002, and since then, she has worked as a filmmaker, writer, art director, and visual artist in various artistic settings.​ Her short films are selected and awarded by international film festivals, like Palm Springs International Short Film Festival, Prague International Film Awards, and Africa Human Rights Film Festival.​
---
Report
Describe why you think this item should be removed from marketplace
Great!
First of all you need to insert your wallet address
Approval may take 1-7 days for our platforms. Thank you for your patience.
How to create a wallet in easiest way
How to connect wallet and sign up to seed.photo