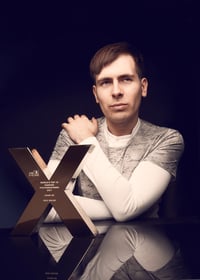 International Award winning fine art photographer. NFT artist. Through his images, Max Solve aspires to highlight and showcase the beauty of the human body. His creative process consists of conceiving an idea and then implementing it during a photo shoot. His personal interest stems from admiration for nude marble statues of Ancient Greece. Consequently, his images often emulate the beauty and mood found in classical art by focusing on the harmony, balance, and proportion of a composition.
— OneEyeland World's Top10 fashion photographer 2021— FEP Awards 2021 — finalist, 3 Merit awards—35Awards 2019, Fashion series, 1st place— IPA CIS 2018, Advertising, Fashion, 1st place— WPPI 1 half 2019, Silver — 35Awards 2018, Fashion, 2nd place— VIPA 2016 Fashion Photographer of the Year, 3d place— OneEyeland 2019 — Silver - MIFA Awards 2018 — Bronze, Advertising-Fashion
Fujifilm GFX 100s, canon 1d mark iv, canon 5d mark III,
---
Report
Describe why you think this item should be removed from marketplace
Great!
First of all you need to insert your wallet address
Approval may take 1-7 days for our platforms. Thank you for your patience.
How to create a wallet in easiest way
How to connect wallet and sign up to seed.photo