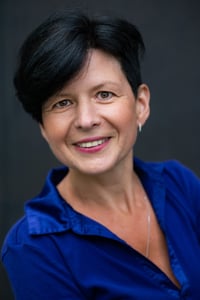 Olga Merrill is an award-winning Maine based visual artist primarily using the medium of photography. She uses photography as a tool – like an instrument to make music or a brush for painting – to create an image of her vision, with a dreamy and indirect relationship to external reality. Some images are essentially representative photography of the world around her that nevertheless dissolve into the wonder of abstract patterns, while others are complex manipulations of the ordinary visual world that use intentional camera movement, multiple exposures, and well planned color palettes to reflect her vision, dreams and feelings.
Juror, Speaker, mentor
Merrill's work has been part of group shows and festivals nationally and internationally, including NYC Center of Photography (USA), Davis Orton Gallery (USA), Foto-Foto Gallery (USA), Griffin Museum of Photography (USA), Praxis Gallery (USA), PH21 Gallery (Hungary), Malta Postal Museum (Malta), Fondazione de Matalon (Italy), Rockport Art Association & Museum (USA), Blank Wall Gallery (Greece), online shows at Center for Photographic Arts (USA), Center for Fine Art Photography (USA).
---
No collection found
Report
Describe why you think this item should be removed from marketplace
Great!
First of all you need to insert your wallet address
Approval may take 1-7 days for our platforms. Thank you for your patience.
How to create a wallet in easiest way
How to connect wallet and sign up to seed.photo