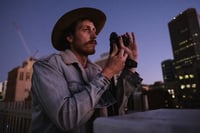 Allow me to introduce myself—I am Dmytro Sydorenko, the visionary behind FilmFinery Studio. My journey is a narrative of resilience and artistic transformation that will intrigue and inspire. Emerging from a pivotal military incident that miraculously preserved my eyesight, I chose to heed the call of my heart and embark on a path immersed in the world of film photography. The founding of FilmFinery Studio marked a transformative moment, where I ventured into the captivating convergence of art and spirituality.
All moments are captured on 35mm film.
---
Report
Describe why you think this item should be removed from marketplace
Great!
First of all you need to insert your wallet address
Approval may take 1-7 days for our platforms. Thank you for your patience.
How to create a wallet in easiest way
How to connect wallet and sign up to seed.photo